CITIBIN makes it easy to apply for trash enclosures
CITIBIN meets Clean Curb requirements
From working with DSNY and DOT on applications for the Times Square Alliance, Montague, Pitkin, Lincoln Square, Union Square/NYU, and more, we know what it takes for approval. We have established a process to provide the site maps, renderings, and documentation needed for the application. Another round of grants will be announced soon.
Beautifying commercial corridors
"Montague is a beautiful tree lined street, it is great to get the trash bags off the street and into beautiful rodent proof containers. CITIBIN met all of the Clean Curbs requirements and the team was a pleasure to work with."
-Kate Chura, Executive Director, Montague BID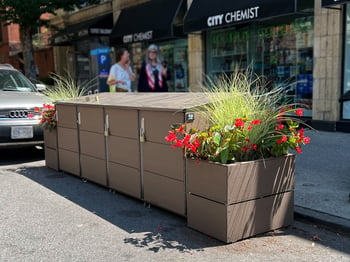 Our trash credentials
CITIBIN has been designing, fabricating, and installing trash enclosures in NYC for a decade. Well before the Clean Curbs program was established, our bins met its requirements: fully enclosed, rat-proof, lockable, non-flammable, weather resistant, and modularly sized to fit your space. Bonus option: matching planters.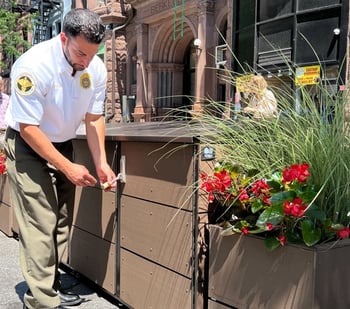 Prefab and ready-to-install
CITIBIN started with custom-built enclosures in the founder's backyard. As the business grew, we switched to prefabricated, modular bins that are ready-to-assemble and ship nationwide. Whether you need a "2-module" or a "7-module," CITIBIN can be configured to your space. Our installers are great at their jobs and a pleasure to work with.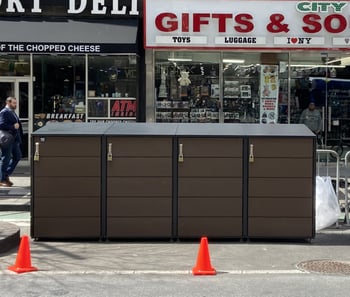 Rat-proof
How do we know that CITIBIN is rat-proof? First, no customers have ever complained about rats after they were installed. Second, we tested the impregnability by baiting CITIBINs with sausage pizza in a rat-infested alley on the Upper West Side to see if they could break in. They didn't, and we made a video about the experiment. Have a watch!
Invite us for a visit!
We do site visits -- sometimes with DSNY -- to assess your trash situation and determine the best locations and configurations. At the visit we'll take measurements and note locations of fire hydrants, signs, utility boxes, hatches, light posts, and more. We're happy to provide references from BIDs we've worked with.