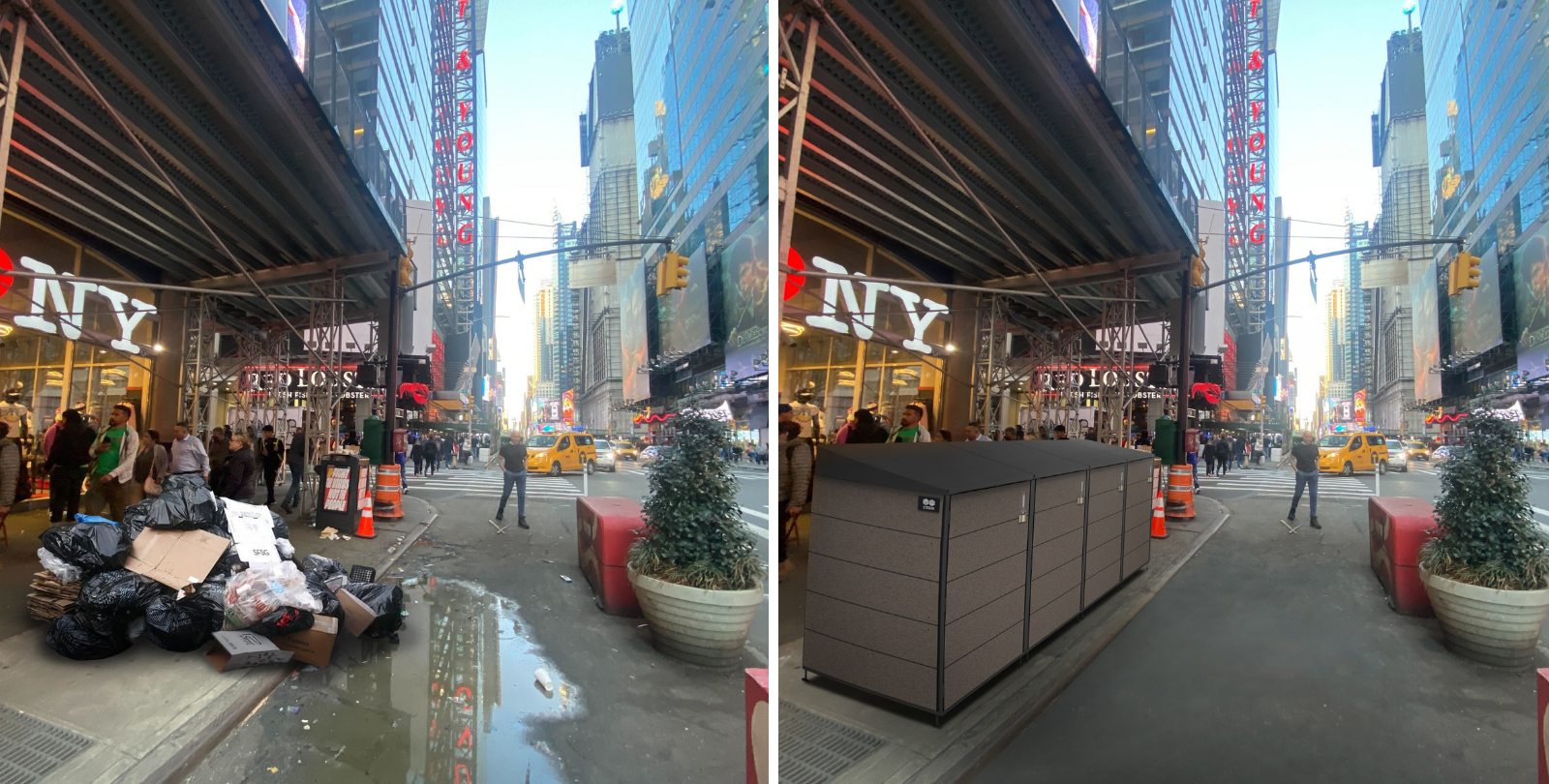 Clean Curbs for New York Business Improvement Districts
A DSNY Pilot to keep commercial trash off sidewalks.
What is Clean Curbs?
Through the DSNY pilot program, Business Improvement Districts (BIDs) can apply for the opportunity to have sealed, on-street containers for their trash and recycling storage, which will reduce their need to set out bags of recyclables and garbage for collection on City sidewalks. Recently the city announced $20,000 grants for BIDS that want to be a part of the Clean Curbs pilot.
What is CITIBIN?
CITIBIN makes modern, commercial-grade outdoor enclosures for trash & recycling, sheds, package delivery, stroller parking, and more. They are rodent-proof; we tested them in a rat-infested alley by baiting the bins with pizza and surveilling them. The results of that experiment are in this video.
We were thrilled to work with the Times Square Alliance on their trash enclosures, at 43rd/8th and 41st/7th, at the Mayor's press conference announcing the expansion of Clean Curbs to all 5 boros.
Founded in 2012 and run by a wife-husband team, CITIBIN is based in Brooklyn at Industry City and was proudly certified as a NYC woman-owned enterprise in 2020.
An experiment with #PizzaRats
Hypothesis: NYC rats can't break into our trash enclosure.
Watch the video to see who wins.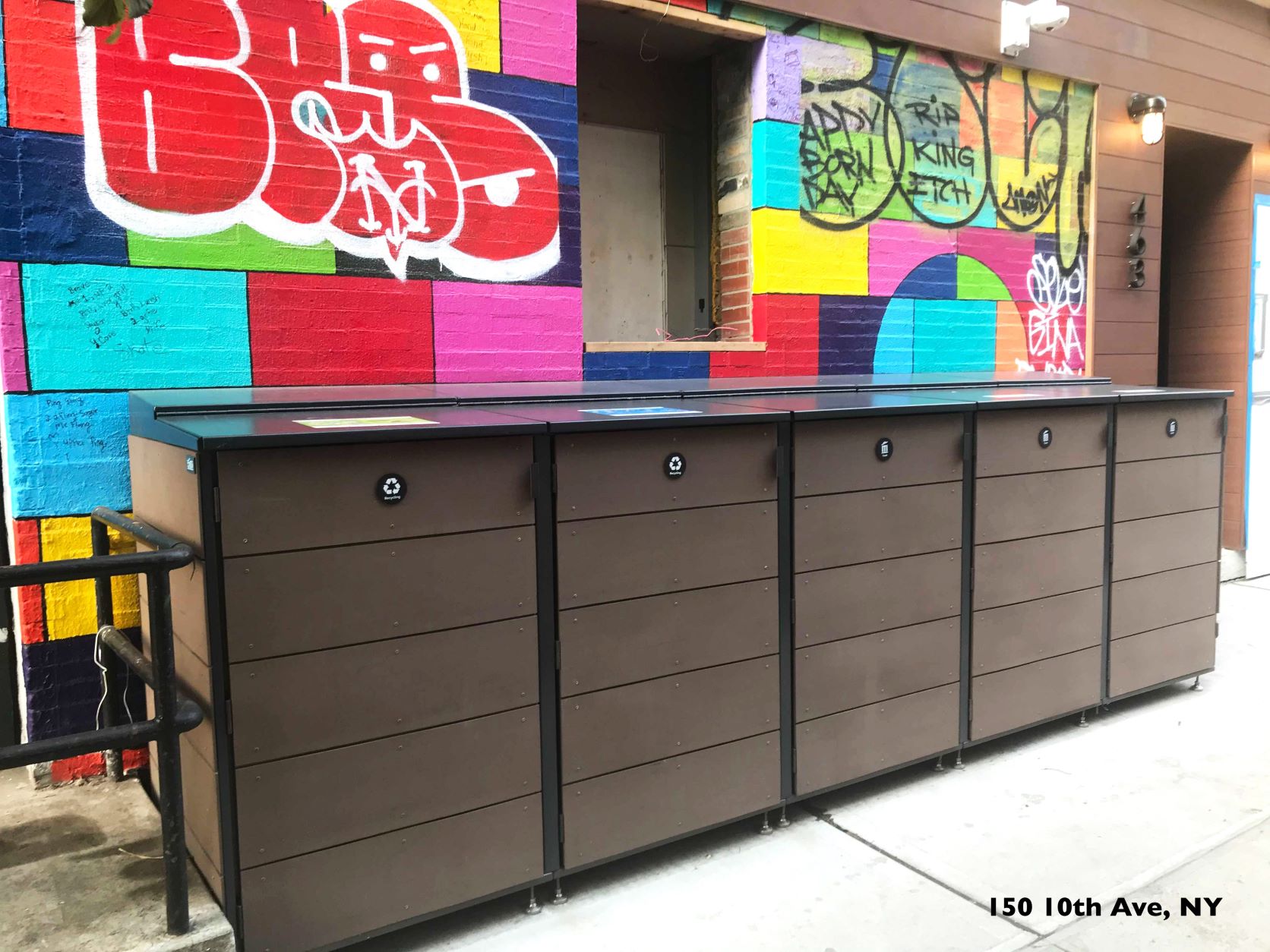 Trash never looked so good!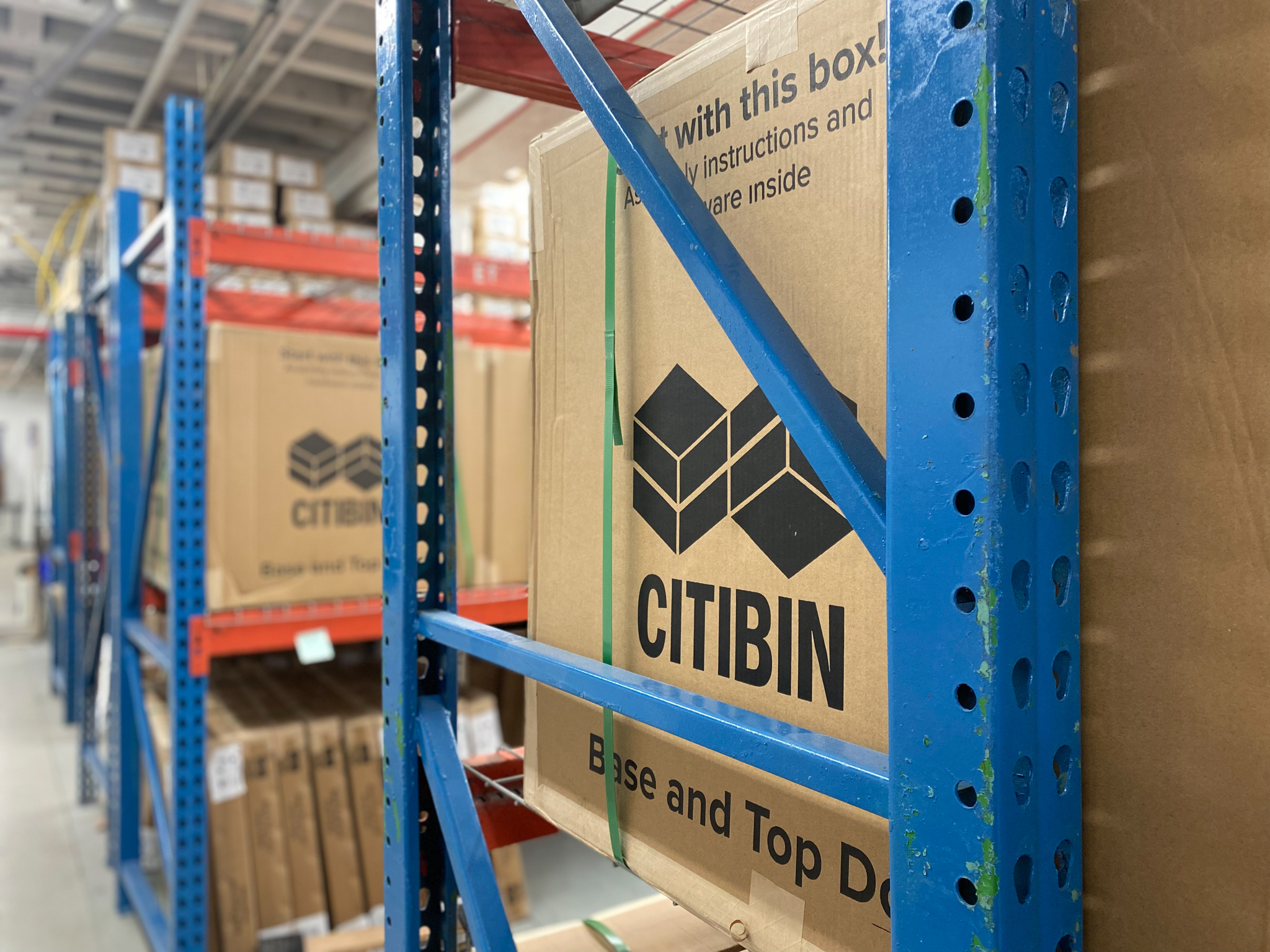 Our bins are prefabricated, ready-to-assemble kits that ship nationwide.
Clean Curbs Requirements
Clean Curbs program information and requirements are available on the DSNY web site, here.
CITIBIN is uniquely qualified to satisfy the Clean Curbs program requirements. Our trash sheds are fully enclosed, non-flammable, and rodent-proof. Built with bamboo and aluminum, sustainable materials that are ideal for long-term outdoor use.
The application (here) is straightforward. We can help with documentation, renderings and photographs, such as these:
Clean Curbs Pilot Pricing
We are happy to offer discounted pricing to BIDs, 15-25% depending on volume. See chart below.
Please contact us through the form below if you're interested in learning more. We are glad to come to your neighborhood to assess the trash situation, take measurements and get you a proposal that can be submitted to DSNY in your Clean Curbs application. If you're planning to apply for the grant, engage us sooner rather than later.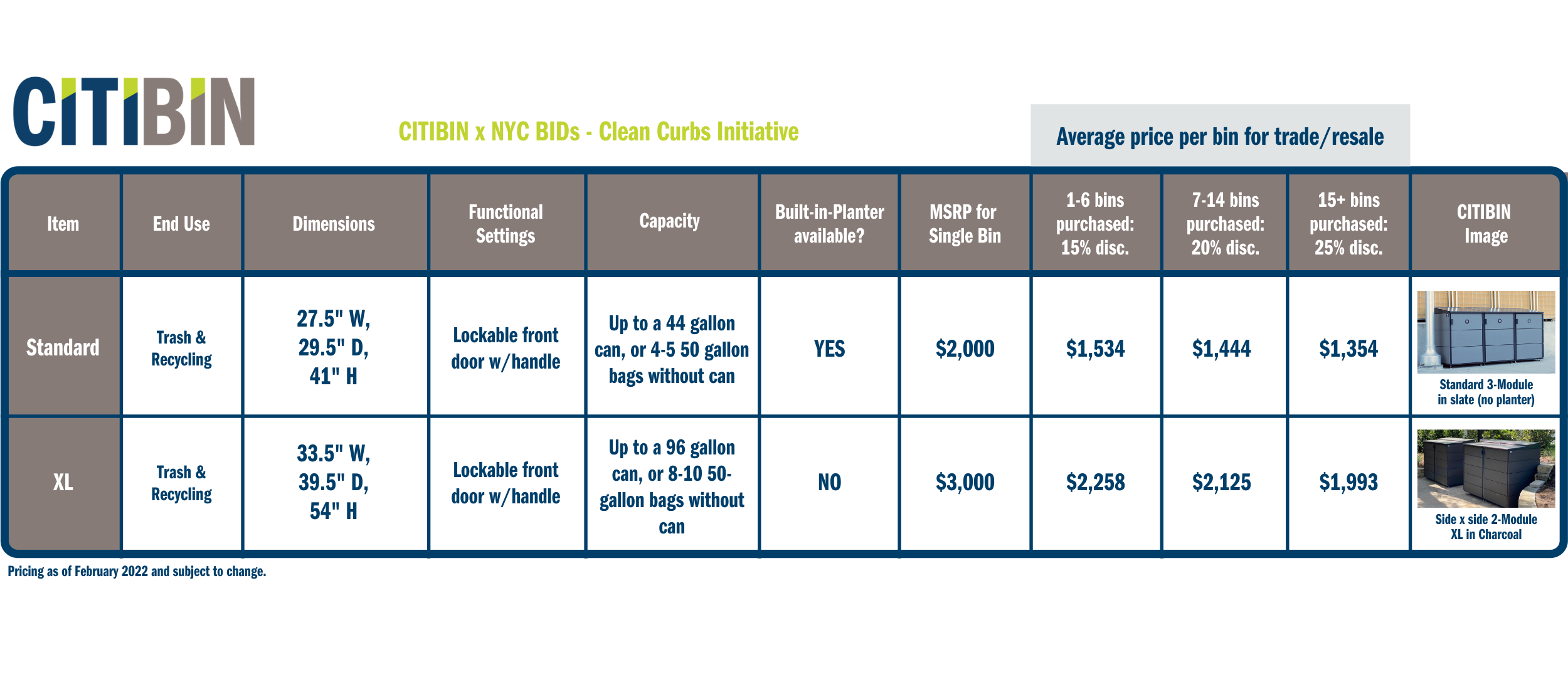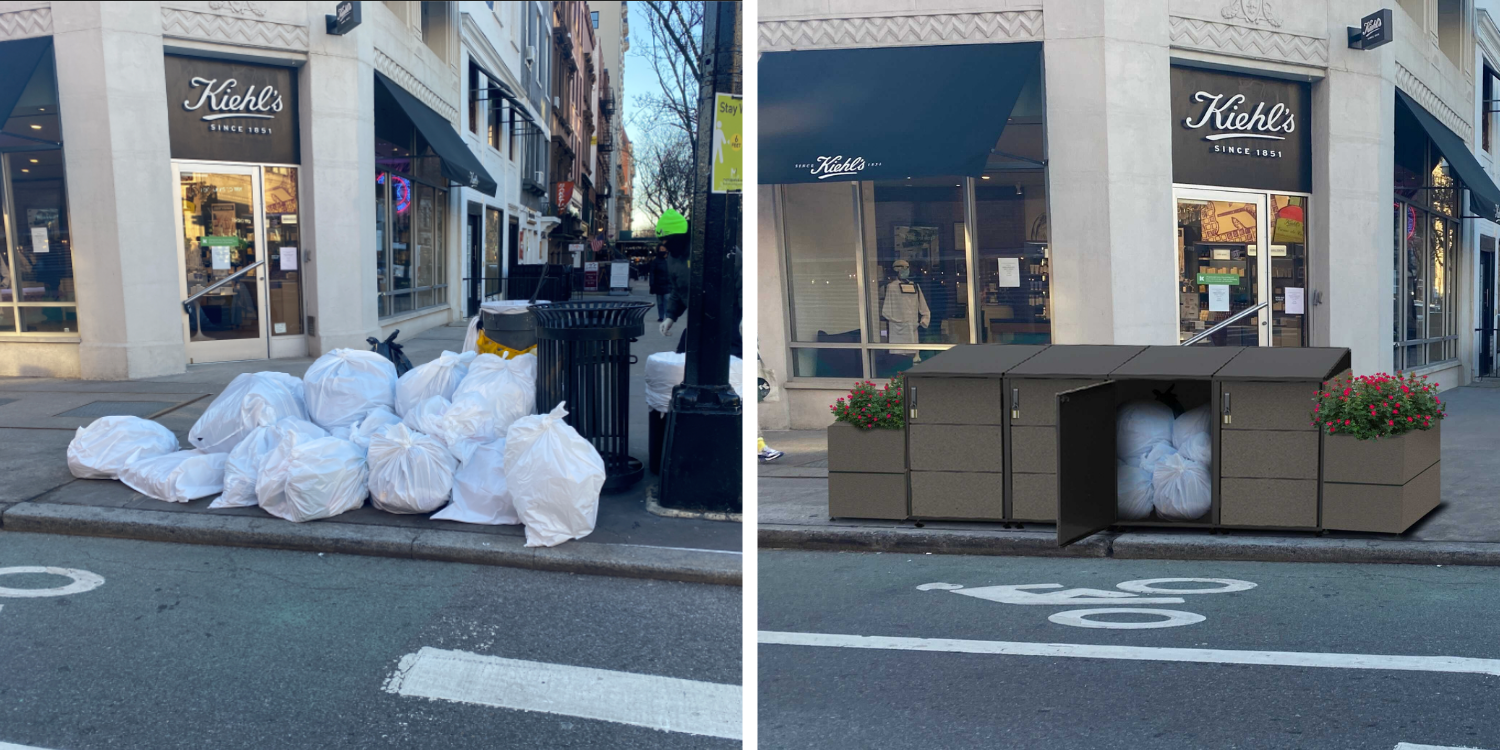 Through the DSNY pilot program, Business Improvement Districts (BIDs) can apply for the opportunity to have sealed, on-street containers for their trash and recycling storage, which will reduce their need to set out bags of recyclables and garbage for collection on City sidewalks. New York Department of Sanitation
The cost of purchasing, installing, maintaining, and removing the container(s) are solely the responsibility of the commerciall entity or BID. New York Department of Sanitation