Trash Enclosures for Cities
Beautifying public spaces, one trash bag at a time
CITIBIN made it in Times Square and can make it anywhere.
CITIBIN's first installation for New York City was in Times Square. With over 360,000 visitors per day, thousands of trash bags, and countless rats, CITIBIN was put to the test. Result: no more sidewalk trash, no more all-you-can-eat buffet for rats. Our trash enclosures have since been installed in 18 NYC Business Improvement Districts, Hoboken, and Philadelphia, with more cities on the way.
Beautifying commercial corridors
"Who wants to walk down Main Street with trash everywhere? Now it's in a bin instead of on the sidewalk, which the neighborhood notices and appreciates."
-Tiera Mack, Executive Director, Pitkin Avenue BID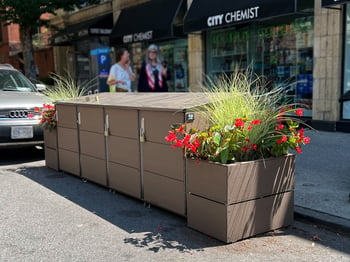 Our trash credentials
CITIBIN has been designing, manufacturing, and installing trash enclosures for a decade. Given the huge demand from cities, we worked closely with sanitation workers to adapt the product for municipal use. CITIBINs are durable for use by sanitation workers, for long term outdoor use, fully enclosed, rat-proof, lockable, and non-flammable. Bonus option: matching planters.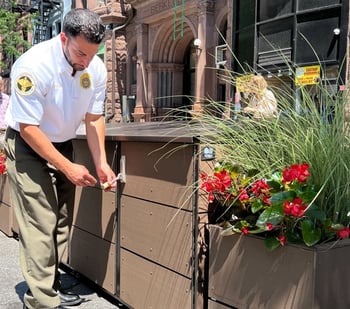 Prefab and ready-to-install
CITIBIN started with custom-built enclosures in the founder's backyard. As the business grew, we switched to prefabricated, modular bins that are ready-to-assemble and ship nationwide. Whether you need a "2-module" or a "7-module," for compost or for trash, CITIBIN is prefab and modular, sort of like Califormia Closets except made with high-grade materials.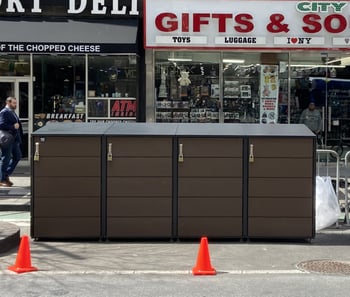 Rat-proof
How do we know that CITIBIN is rat-proof? First, no customers have ever complained about rats after they were installed. Second, we tested the impregnability by baiting CITIBINs with sausage pizza in a rat-infested alley in New York City to see if they could break in. They didn't, and we made a video about the experiment. Have a watch!
"Montague is a beautiful tree lined street, it is great to get the trash bags off the street and into rodent proof beautiful containers. CITIBIN met all of the Clean Curbs requirements and the team was a pleasure to work with." Montague BID
It's easy to get you an estimate, even if it's for future reference
The process is simple and we do the heavy lifting! If in NYC, we will do a site visit. If not, we Zoom. It's helpful if you share pictures of the trash problem. We'll create an estimate that is easy to share with the "decision makers" -- before and after renderings, pricing, and pictures of the bins installed in other cities.
Group Purchase Option
Ask about our Group Purchase Option, when multiple BIDs purchase at the same time to receive a deeper discount.